Patriot News
PATRIOT NEWS NOTE: We do not offer EMF health advice or endorse any EMF or Anti-EMF products. Your physical health decisions are your own responsibility.
How To Measure WiFi and Cell Phone Radiation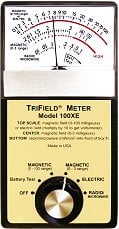 As the mother of three children – with thinner skulls, higher water content in their skulls (= higher conductivity) and undeveloped immune systems – it is very important to find out what levels of microwave RF radiation my kids are being exposed to, so that I can take measures to protect them where needed.
So the first component of protecting your kids from wireless radiation involves testing and measuring their daily environment for WiFi signal strength – school, home, dance or gymnastics studio, friends' houses, etc. Anywhere your kids spend over an hour continuously should be tested (in my opinion) so at least you can…
View original post 24,990 more words